Where can I find the best vegan ice cream?
One of our favorite treats to enjoy on a hot and sunny summer day…ICE CREAM!
Did you know ice cream (in its many forms) has been around since 600 AD?! 
We went around town trying different (and very delicious!) vegan ice creams, sorbets, and soft serves, and then created this guide for you! You'll find a list of different places that offer vegan ice cream, in addition to the flavors we tried and what we thought of them, so you can easily find where to get some of the tastiest vegan ice creams in NY's Capital Region!
In our blog you'll learn about what vegan ice cream is, why we love it, and explore local sustainable and ethical ice cream alternatives that don't sacrifice taste or individual preferences! 
Image: Like No Udder at Albany VegFest 2019
What is Vegan Ice Cream?
Before we get into our tasty reviews, what exactly is vegan ice cream? Keep reading to learn more and see why we are so passionate about it.
Vegan ice cream is made from plant-based ingredients, which means that it doesn't contain any animal products or by-products. Consuming vegan ice cream means not contributing to animal exploitation. These animals have to have a baby to produce milk, and this milk is perfectly formulated for their babies to meet their developmental needs. Luckily, there's lots of animal-free and cruelty-free options.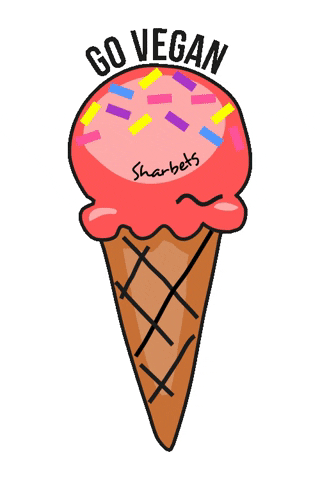 Dairy ice cream is typically made with cow's milk, but for vegan ice cream they just easily replace that with delicious plant milks made from different nuts, beans, seeds, and grains. This can include almond milk, cashew milk, coconut milk, oat milk, soy milk, rice milk, pea milk, and even avocados! Consuming plant milks are better for one's health because they contain less saturated fat and no cholesterol or hormones, yet they're still very delicious and creamy.1 
Although there are several types of dairy-free ice cream created for consumers with lactose intolerance, not all dairy-free ice cream is vegan. When searching for vegan ice cream in grocery stores or restaurants, make sure to check the label (there's often a "vegan certified" symbol) to ensure it's vegan, or ask your server!
Some non-vegan ingredients to look for, even if a product says dairy-free, may include natural or artificial flavors that are not listed as vegan, honey/beeswax, whey, casein, lactose, gelatin, non-vegan lactic acid, confectioner's glaze, and cochineal or carmine (check out the entire list here). Lastly, plant-based ice cream is also a better option for the environment as well because plant milks use less non-renewable resources.2
Gif Credit: @sharbets 
Oat Milk Vegan Ice Cream
Most of these foods have predominantly originated from people and various cultures from around the world, who have been making and enjoying dairy-free alternatives for some time. And while modern vegans have partaken in dairy-free alternatives for decades, the recent, exponential rise of dairy milk alternatives coincides with shifting consumer trends. This shift in trends is evident in the abundance of mass-market plant milks available at the local grocery store.3 Non-dairy alternatives are no longer a niche interest held solely by vegan consumers or even individuals who live a predominantly plant-based lifestyle. American millennials in particular are far more likely to eradicate or reduce their meat and/or dairy consumption, making the new American diet for younger generations much more flexible than the dietary proclivities of previous eras.4
Photo Credit: 16 Handles x Oatly 
While almond, coconut, and soy continue to be the most popular vegan alternatives, the recent interest in oat milk is in large part due to the understanding of the varying environmental impacts of each plant milk alternatives. Oat milk is widely considered to be the most sustainable–the production of oat milk results in about 80% less greenhouse gas emissions, 79% less land usage, and 60% less energy consumption than dairy milk.5 In addition, many consumers find that the texture of oat-milk products is the most satisfying as it is smooth and creamy without a nutty aftertaste. This combination of taste, texture and sustainability makes oat-milk a perfect candidate for non-dairy ice cream.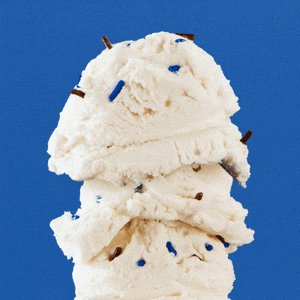 With all that being said, now we're ready to give you the scoop on Capital Region's vegan ice cream.
Here's a closer look at some of those local vegan ice cream options to stay cool this summer!
Gif Credit: https://giphy.com/
Vegan Ice Cream in Albany County
Located in Delmar just over the Albany city line.
A local favorite for decades, this seasonal ice cream establishment recently added a non-dairy machine where they always have almond milk soft serve available.
In addition, there is a rotating Dole Whip flavor so you can enjoy either vanilla almond milk soft serve or the two flavors twisted!
Another vegan option they offer are ice cream sandwiches! Though we didn't give it a try this time, we might have to get one the next time to let you know what we think. If you've had one, let us know what you thought of them!
Photo: Vanilla almond milk
Emack & Bolio's usually have a couple sorbets and a few coconut-based ice cream flavors, which are delicious, rich, and creamy.
Their flavors currently include chocolate pudding, goa mango (pictured), mint chocolate freckle, and toasted coconut!
They have a nice outdoor seating area, plus lots of fun toys and gifts inside! We find their atmosphere to be very inviting and fun, while enjoying a vegan treat.
Photo: Goa mango ice cream
Guptill's is known for it's roller-skating but as their radio ads say, their ice cream is famous too. Luckily, they have many options so that the whole family can find something to enjoy. They have several vegan options which are listed as 'non-dairy' including this cookie dough pictured (note: not gluten-free)! This flavor wasn't our favorite, in part because it melted so quickly and therefore was not the easiest to enjoy.
However, their other flavor, cookies and cream, is a CRVN favorite! It's creamy and the pieces of cookies seem perfectly placed. Portions are large, so make sure to save room.
If you head to Guptill's, we definitely recommend giving this one a try and then let us know what you think.
Photo: Cookie dough 
Other places to find non-dairy ice cream in Albany County include:

Vegan Ice Cream in Rensselaer County
CRVN is lucky to work with many local vegan and vegan-friendly businesses in the Capital Region and one of these is our friends at 16 Handles, East Greenbush. On top of this long-standing friendship, 16 Handles chose to work with us to celebrate the launch of their exclusive Oatly soft serve partnership! Make sure to visit 16 Handles East Greenbush this Friday June 11th for up to 5 ounces of free Oatly soft serve from 5:00 to 7:00 p.m. (all you have to do is mention 'Capital Region Vegan Network!). More event details can be found by clicking here.
Photo Credit: 16 Handles x Oatly 
Starting now, you can enjoy Vanilla and Iced Latte Oatly soft serve at 16 Handles. Iced Latte is exclusively served at 16 Handles and will not be available anywhere else!  When Oatly first arrived in New York City, it came via coffee shops and espresso bars on neighborhood street corners. With the Iced Latte flavor, 16 Handles and Oatly sought to pay homage to this origin story and the beverage that had New Yorkers falling head over heels: the classic, creamy oat-milk latte. Pour it over ice, and there's no better summer treat. If these flavors leave you wanting more, two new 16 Handles x Oatly soft serve flavors will be released in July!
Photo Credit: 16 Handles x Oatly
We got a chance to try some of these flavors before our event and they are SO good — creamy, smooth, and refreshing! Those who got to try it early thought it was one of the best soft serves they've had.
If you can't make it to our event or you miss the chance to try Oatly soft serve, 16 Handles also offers a variation of vegan soft serves and sorbets. 16 Handles actually launched their first soy milk vegan soft serve flavor in 2013. Since then, the brand's chefs have created flavors with almond milk, cashew milk, and oat milk! 
Defazio's offers vegan takes on classic Italian gelato with flavors like espresso stracciatella, chocolate cherry, coconut cream, and double chocolate peanut butter.
We think they recreate the rich, creamy texture of classic dairy gelato to perfection!
Wanting it in a creamy milk shake instead? They do that with their gelato as well! Pictured is their vegan chocolate and Amarena cherry gelato shake with hand-whipped coconut cream.
We definitely recommend giving them a try!
Photo Credit: @defaziospizzeria (Instagram)
If you love home-made hard ice cream, then Snowman is the perfect spot. They usually have three vegan ice cream flavors, including options that fit all flavor palettes — a rich flavor (like chocolate) and a sweet and fruity flavor.
Located in Lansingburgh, it's just a short drive from downtown Troy. Their servings are very generous, so come hungry, plus their ice cream is very popular so be prepared to stand in line! However, this spot is a favorite amongst CRVN members who say it's well worth the wait.
Photo Credit: @thesnowmantroy (Instagram)
Other places to find vegan ice cream in Rensselaer County include:
Vegan Ice Cream in Saratoga County
Pirate's Hideout makes their own vegan hard ice cream and some gluten-free options! They started making vegan ice cream because many of the kids at birthday parties they host are lactose intolerant, so they wanted to have a dairy-free ice cream to offer them instead of sorbet. They even ordered new equipment to make their vegan ice cream in house. Now they offer a variety of flavors that don't disappoint, including triple berry cheesecake, oreo fudge, chocoloco, and cookie butter fudge! They typically offer around 3-4 vegan flavors that regularly switch up, so each time you visit you're likely to be surprised with a new flavor option!
Photo Credit: @pirateshideout (Instagram)
That's not all they have though! You can also enjoy playing a game of mini golf or relaxing at their many sitting areas, including a shaded pavilion or open lawn (both perfect for picnics!). Their staff and owner have been very friendly to us, so if you ever have any questions regarding their vegan options we recommend reaching out to them.
Overall, they are a favorite amongst many in the vegan community!
Other places to find vegan ice cream in Saratoga County include:
Even MORE Places to Find Dairy-Free Ice Cream
• Stewart's launched two new vegan ice cream flavors that are available in pints in all of their stores.
• Eat Me Ice Cream, a fan favorite, is based in Rochester. On their website you can find their store locator, where you can check out all the places that carry their products. In Albany, some of their ice cream is at Honest Weight Co-op, including their Hibiscus, Deep & Dark Chocolate, Lavender, Cardamon Rose Pistachio Halva, and more!
Photo: Guptill's cookie dough 
What's your favorite vegan ice cream?

Gif Credit: https://giphy.com/
If you're feeling overwhelmed by all of these choices, that's ok!
Summer has just begun, so there's plenty of time to taste-test them all.
Help us kick-off ice cream season and join us at our Summer Your Way Ice Cream Social: 16 Handles x Oatly for free Oatly soft serve! The newest player in non-dairy ice cream is oat-milk, which is now available at all 16 Handles locations.
Stay tuned for a PART TWO to read more about our reviews of these delicious vegan ice cream offerings.
Feel free to join in and show us how you're a #CapRegionVegan!
---
Sources

Editor's note: Original post date August 2020. 
We, Capital Region Vegan Network (CRVN), are a non-profit organization based in Albany, NY. We strive to empower our community to adopt and maintain a vegan lifestyle through outreach, education, support, and advocacy. We envision a community that embraces healthy and sustainable vegan living on behalf of all beings and the shared earth. We continuously attempt to provide our community members with the information necessary to make ethical food choices that do not sacrifice taste or individual preferences.